Most business owners will agree with you that there are some tasks done in keeping their business running. However, such tasks are not done by them. It is practical to assume that a person cannot handle all aspects of his or her business on his or her own.  Many modern business owners desire to accomplish more in order to achieve better results. There are some activities which can only be completed with the help of apps specifically designed for those tasks. Apps like Airtable assist in getting the finest results from your business because it allows you to manage a full business scope through the usage of provided templates.
A lot of things you can do with Airtable. However, the most common ones are keeping records, managing databases and automating. These functions help business owners and users to save time and reduce task. Taking a drive into how an Airtable consultant automates, let's talk about what it does and how it works.
What is Airtable automation?
Airtable automation helps you to customize workflows through the use of triggers and actions in your base.
Trigger
Trigger is a start up to the automation, it is an event that begins the journey of a workflow. Triggers are necessary for an automation to begin.  This is considered based on how it is set by you, most common ones are
When a new record is entered.
When a record matches a condition.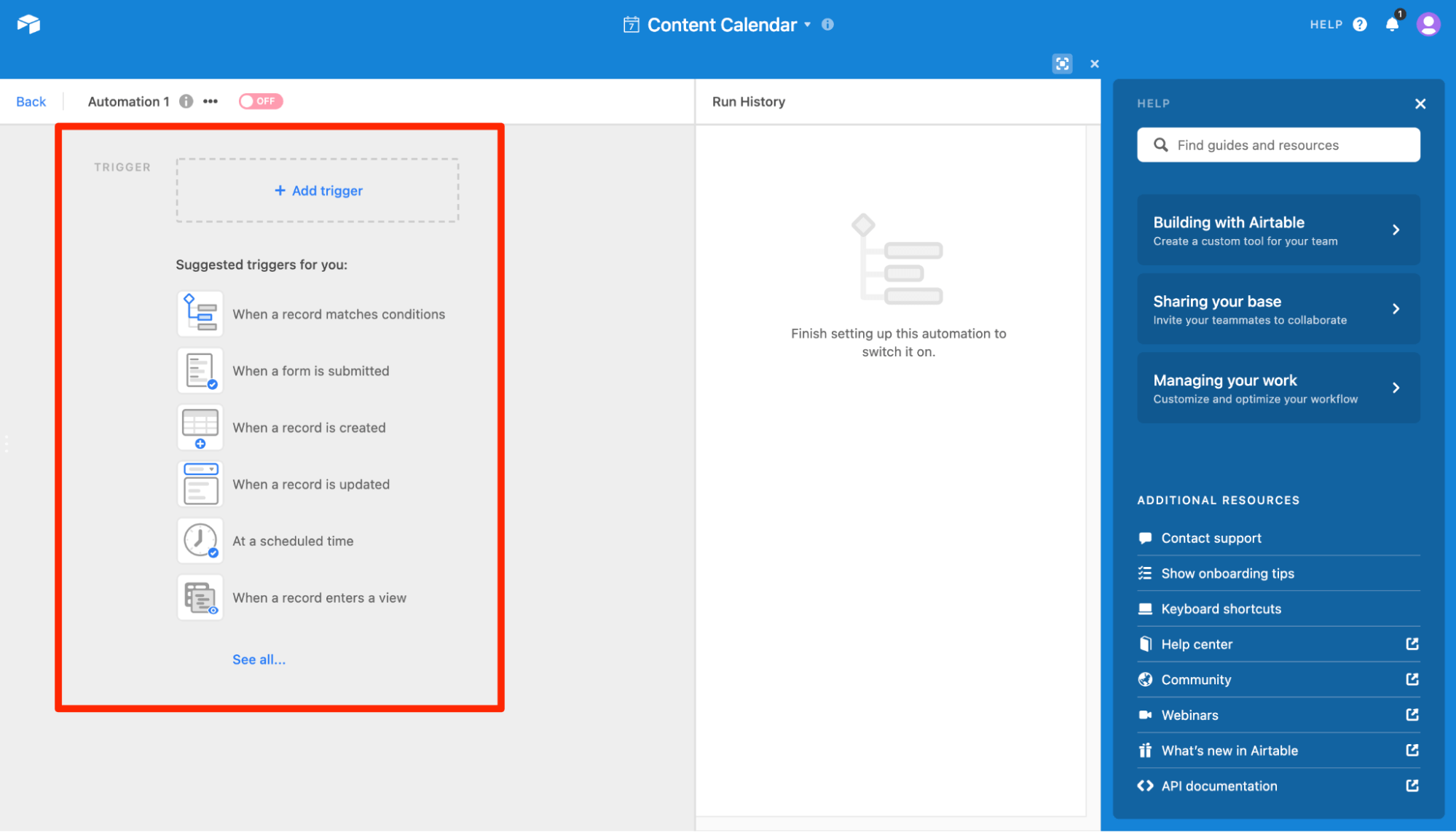 Action
An action is the step that follows a trigger for an automation to be executed. In essence, an action carries out a task after been triggered. Some actions that you can automate are:
Send a mail
Find a record
Update a record
Create a record
Outlook actions
Send a slack message
Create post action for facebook
Run a script
Send a microsoft teams messagee
We can see from above that the main elements of an automation is the trigger and action, the trigger first and an action follows which makes it a complete automation.
Creating Airtable Automation: 5 steps
– Starting with an automation template
The platform has various automation templates created to suit the purpose of your business. You will have to use from the options and then customize it to your taste. It has made it easy for business owners to operate the automation system without having to create from scratch.
Here is an alternate to selecting from template, in this case, you have the liberty to create something unique from scratch. You will start by naming your custom Automation and then creating your triggers and actions based on what will work for you. An Airtable specialist may likely start from scratch because of his expertise but as a user with little knowledge, you should go for the ready made templates.
Selecting a trigger
As previously stated, a trigger initiates automation. So, after selecting a template or starting from scratch, you must select triggers from the possible options. This will get your automation off to a solid start and set the standard for the rest of the operation.
Adding actions
When you have successfully created triggers, you must set actions to follow; this is the essence of automation. In other words, you want something to happen when your automation is activated.
Testing your trigger and action
Before you ultimately publish your automation, double-check that it's set up exactly how you want it. After your trigger and action have been set, the Airtable service allows you to test them.
How Airtable Automation can benefit your business:
Cost savings
Every Business owner wants a way to cut cost, it is evident that Airtable automation is one way to reduce cost, it helps to manage almost everything your business will need.
Effective communication
Automation can significantly improve communication between your team members.
Increased production
Since you don't have to worry yourself on some tasks, Airtable service automates fast and efficiently is a good way to help your business produce more.
Increased accountability
By automating your workflow, you can assign responsibility to a team member for every part of the process, reducing the chances of something slipping through the cracks.
After reading from above, you can see that Airtable automation is a great approach to aid your business. You may  want to move on with your first automation, advisably, you may watch tutorial videos to learn more. However, if you prefer to hire an Airtable expert, you can find us at https://desolint.com/airtable-expert-consultants/. With us, you get every service you desire on Airtable.